If you are looking to improve the sales of your cannabis dispensary or your cannabis delivery business, you should seriously consider getting a mobile app and website developed. Let's take a look at the most compelling reasons for this that a staggering 92% of cannabis business owners agree with. Currently cannabis startups and technology applications in the cannabis industry are very high in demand because of their various medical and recreational uses.
So why should you invest in an online app for your cannabis business? Let's take a look at the top reasons:
1) Legalization and Online Sale Of Marijuana Products
By the year 2020 ends, the marijuana industry is expected to add at least 200,000 new jobs to the US. Several companies have also begun to capitalize on the industrial uses of Cannabis and related products. In addition to the medicinal use of cannabis, several states across the US have legalized cannabis for recreational use in recent years. Studies have shown that technology applications in any industry boost its growth manifolds. And since the online discovery of a wide variety of cannabis products is allowed, investing in a cannabis app for your own business or building an online cannabis marketplace before your competition captures the market is crucial for your business. Such an online platform for cannabis product discovery, sale, and delivery is going to enhance the accessibility of your products for a significant section of the customers who prefer buying everything online. So online is where your business needs to be if you want your business to be discovered by potential customers, and if you want your customers to buy from you every time and not your competitors. With your own apps you can provide your customers with product recommendations and increase your up-sell and cross-sell funnels thereby increasing per customer sale value.
2) Statistics That Support The Growing Trajectory Of The Marijuana Market
This is another strong reason to invest in a cannabis app or online cannabis marketplace. Two years ago, the total legal sales of cannabis products amounted to $10 billion and the same number is expected to cross the $24.5 billion mark by the end of 2021. The production of hemp has increased over the past decade also due to the fact that it can be used to make fabrics and textiles as well. Similarly, its uses in the health and food sector to make additives for nutrition and body care products are also undeniable. It is quite clear that the cannabis industry is only going upwards from here. There's a good reason why all types of retail and delivery businesses are going the e-commerce route – because that can keep their business online round the clock and multiply their sales from customers who can't or don't want to physically visit their store. This reason is even more important for delivery businesses. Let's face it – how many orders can you practically take on phone calls or emails? How many personalized product recommendations can you provide to each caller? And how many people actually call or email you to inquire about new products? So going the digital route and taking your cannabis business online with your own branded website and mobile app is essential.
3) Presence Of Development Companies That Understand Compliance Standards Well
The presence of reputable cannabis web and mobile app development company that understand complicated compliance standards and requirements well enough is creating new opportunities for every aspiring online cannabis business. How to launch your own cannabis app on Apple and Google app stores? How to launch your own cannabis e-commerce website? Can you sell and ship CBD products online? Knowledge of all these can prove to be tremendously resourceful to build a successful cannabis business online. Creating a reliable, scalable, efficient, and cost-effective online platform and mobile application for your cannabis business is very much possible.
Talking About Compliance Standards And Government Regulations
Preparing a list of regulatory agencies that govern compliance standards for the Cannabis business in your city and state is the first step you need to take. At the state level, we have 3 regulatory agencies which are the Bureau of Cannabis Control, the Department of Food and Agriculture, and the Department of Public Health.
Bureau Of Cannabis Control
All distributors, cannabis laboratories, retailers, both large and small scale, delivery-only retailers, and micro businesses and also several temporary special events that involve sale and distribution of Cannabis and CBD infused products come under the purview of the Bureau of Cannabis Control.
Department Of Food And Agriculture
This department governs CBD / Cannabis plant cultivators, processors, laboratories that process the plant, and several nurseries that grow and culture cannabis plants and buds.
Department Of Public Health
Manufacturers and sometimes wholesale suppliers of CBD infused products and Cannabis plants and buds come under the purview of this department.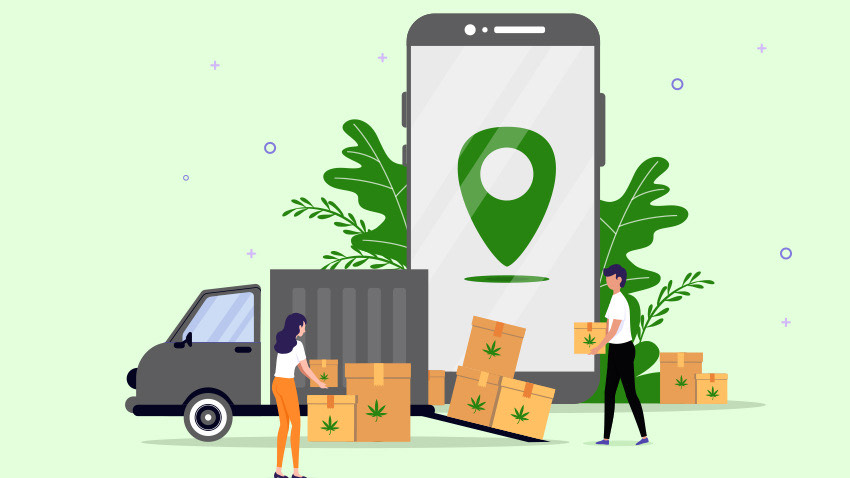 4) Affordability Factor That Online Platforms Bring
When you make your products and services affordable for your client base, you are ensuring the success of your business in this industry. Today, CBD oil and several cannabis products such as buds, plants, powders, pastes and lotions, and even edible items are easily accessible and very much affordable, especially after legalization. By creating a unified marketplace for wholesalers and large-scale retailers of cannabis products, you can eliminate any other middlemen between you and the final user, thereby making these products even more affordable for them. Through a web and mobile app for your on-demand cannabis delivery business, you can display products from multiple vendors – at your own prices – and yet you don't need to maintain any inventory of your own.
5) How The Current Pandemic Situation Will Give An Extra Boost To The Cannabis Industry
According to a recent study, several cannabis manufacturers and entrepreneurs have already said that federal legalization of this plant is going to provide the much needed economic stimulus to the country. Tax revenue and job creation during this difficult situation are going to help the economy tremendously. Several states have already deemed cannabis as an essential commodity during the COVID-19 lockdown. According to another study, cannabis businesses that had their own website and mobile apps saw a whopping 147% weekly average sales during the lockdown period as compared to the last year.
Final Thoughts
Right now is the ideal time to take your cannabis business online. While at the same time ensuring that your cannabis app or online marketplace is 100% compliant with state and federal regulations and upholds the required standard and quality assurance when it comes to product delivery and security of payments online. Studies have shown that penetrating into a market that has been primarily cash-based for decades is not difficult if technology adoption is approached in the right manner. At Zapbuild, we've helped hundreds of cannabis dispensaries and cannabis delivery businesses in successfully adopting web and mobile apps for their business. Should you have a burning question about launching your own cannabis app or online cannabis discovery and delivery marketplace, feel free to get in touch with our team today.
Receive Expert Insight By Email
You can receive more such insights, ideas, and solution recommendations from our IT experts – directly in your email, absolutely free – by subscribing to our blog.
SUBSCRIBE NOW