The education industry is expanding and it has become more welcoming of ideas and innovations. With advancing information technology and digital learning management systems, it is now a lot easier to make students aware of their learning styles. This is something that was never heard of until a few years ago.
It is only due to the advent of online learning management systems and e-learning models and software platforms that instructors and teachers have been able to identify several learning styles that their students prefer in order to imbibe knowledge and make the most of the learning material they have in their hands.
Understanding The Importance Of Identifying Learning Styles
According to the Felder-Silverman learning style model, the preferred learning style of any student can be inferred from their behavior and attitude that they exhibit while they are studying or pursuing an online course. This approach was primarily developed for learning management systems and is highly relevant in the case of e-learning.
What Is The Concept Of Identifying Learning Styles?
Every student is unique and they all have distinct faculties that are more prominent in their nature than others. Some students might be very quick in grabbing a new concept, while others may be better in observing details and yet a different lot maybe skilled in memorizing formulae. These basic points of differences have given rise to the concept of different learning styles that each of these students might find more appropriate for themselves. Their patterns of behavior and response to external stimuli reflect what approach or style of learning they are drawn to the most.
Understanding Relevant Patterns Of Behaviore
The most commonly used features in LMS easily form the basis of assessing and identifying behavioral patterns of the students. Some of the features that will help you identify and classify the learning styles of your students comprise:
Content objects
Syllabus outline
Examples
Case studies
Self-assessment
Practical exercises
Discussion forums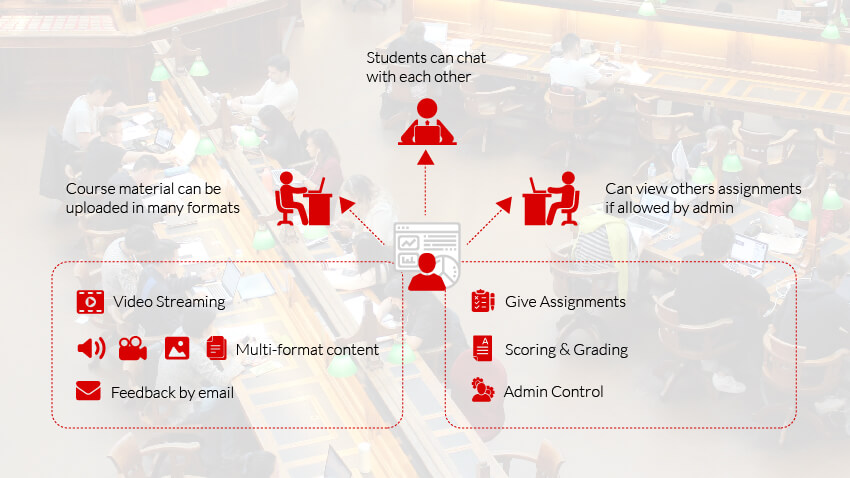 Other than this, even the navigational behavior of a student will be considered very important in order to identify their preferred style of learning. For this to be effective, the entire layout and navigation of the online learning management system software have to be easy to understand and use. It should offer the necessary features that any student, executive, trainee, potential candidate or even existing employees of an organization find useful and valuable when trying to imbibe new skills and industry-relevant knowledge. Active learners will post comments and questions more often and would be more willing to discuss and explain something. Reflective learners will prefer to participate passively and would try to grab the concept carefully by frequently reading the posts. Active learners are expected to perform self assessment tests more frequently and will spend more time on practical exercises as well. As far as taking help from the examples section goes, they would prefer to conduct an experiment all by themselves rather than having to read through an example or case study. Reflective learners, on the other hand, will prefer to think and reflect on the content and material they have been offered. They will spend more time on content objects and would typically take more time on self-assessment tests as well.
Sensing & Intuitive Learners
Sensing learners are going to favor material that is based on facts and verifiable data. Intuitive learners on the other hand, will lean more towards abstract material and theories to understand their underlying meaning. When you analyze the performance of such students on questions that are based on facts and theories, it will provide a clear indication of their learning styles. Sensing learners will always tend to prefer examples. They want to learn from the concrete material provided to them and will take more time there and visit such examples more frequently. Intuitive learners, on the other hand, would prefer to learn from content objects and any examples would be considered only as supplementary material. When it comes to problem solving, sensing learners prefer standard procedures where they will prefer to learn from existing approaches and rely on a high number of self assessment tests to check their acquired knowledge. Intuitive learners would try to solve a problem based on their understanding of the concept and personal judgement by modifying the existing approaches to suit the problem at hand. They would be more creative and keen on developing new solutions by understanding the underlying theories and concepts. A very distinct characteristic of sensing learners is also the fact that they are more patient and pay more attention to details while working slowly but carefully. Their self-assessment and the time they take to perform it is also considered a pattern. As compared to intuitive learners, sensing learners are expected to perform slower test reviews.
Visual & Verbal Learning Styles
Visuals and graphics form an important part of a good learning management software. Visual learners are going to learn best from what they see as images, graphics and flowcharts and other data. Verbal learners, on the other hand, would prefer to learn from written or spoken data instead of imagery.
Therefore, their performance and learning styles can be assessed on the basis of graphics and text which is going to help you identify their learning patterns very clearly.
Verbal learners tend to communicate more often and would be more willing to discuss and post their findings and problems as compared to visual learners.
Sequential & Global Learners
Sequential learners are going to be more comfortable with details and global learners would look at the big picture. The way they perform with questions dealing with an overview of concepts and connections between different theories will serve as a pattern to identify their learning styles.
Sequential learners will go through the course step by step in a very linear fashion.
On the other hand global learners tend to take large leaves and would often skip certain learning objects and would directly jump to more complex material.
The biggest characteristic of a global learner is that they often jump directly to the outline of the course and can be found spending more time on the course overview page. They tend to spend more time interpreting predefined solutions and developing new ones. The way they navigate through the entire learning management software will also help you identify their learning pattern and style and assist you in differentiating them from sequential learners.
Final Thoughts
It is not just important to identify different learning styles but also to create a learning management system that effectively incorporates all these within one platform. Instructors and students are going to differ when it comes to their usage patterns and learning and instructional styles. A learning management system that caters to all their needs is what we need at the moment. It has to be feature-rich, easily navigable, very simple to understand, loaded with tutorials and assistive menus and also equipped with constant online support. If you find yourself in a position where getting all these features in your learning management system seems like an almost impossible task, Zapbuild is here for you.
Recommended reading
Most Practical Use Cases of a Business Learning and Training Management System Software
Receive Expert Insight By Email
You can receive more such insights, ideas, and solution recommendations from our IT experts – directly in your email, absolutely free – by subscribing to our blog.
SUBSCRIBE NOW