Technology has grown by leaps and bounds and the real estate industry was the last avenue that we ever expected to be affected by it. But the interesting thing is that technology adoption has been very fast and overwhelming in the sector. The software and apps that are now available to both, buyers and sellers are practically countless. The options they offer to simplify real estate transactions and speed up property ownership transfers are evolving as we speak. Let's take a little glimpse of the most critical technological advances that the real estate industry is witnessing at the moment:
Making Use Of Big Data
In the last 25 years or so real estate businesses have grown tremendously and have gained access to crucial analytics. They have massive amounts of clients, properties, demographics, and trends data that can give them the ability to sell better and faster. This information can help real estate developers, brokers and agents to know and understand their customers and what they want and seek to invest in. Big data, when used wisely, functions as a very valuable tool to target the right buyers and sellers of property and gain important insights on the entire real estate industry.
Virtual Reality Becomes Bigger Than Ever
Regardless of where the potential homeowner is located, real estate agents have found a way to give them a life-like experience of the home they want to buy through virtual reality. Virtual home tours have become very common in big cities across the world such as San Francisco, New York, Hong Kong, Tokyo, and London. Virtual reality has given a unique opportunity to real estate agents, developers, hoteliers, and homeowners to exhibit their properties to far-off clients without being limited by geographical distances. Investors can save time and money on commuting between places and simply walk through their new apartment with the help of virtual reality home tours.
Building Technology Of The Future
Modern technology has made low cost housing a reality. Housing options that do not leave a negative impact on the environment are also very much in demand. Therefore, several real estate developers are working diligently to find more innovative yet low cost and extremely environmentally friendly ways to build houses and office complexes as well. For example, 3D printing which was once a dream project of many skilled engineers is becoming huge. One of the countries that are leading in this technology is China. The country was able to build a house with the help of 3D printing as far back as 2014. Though the use of this technology is still far from mainstream – the time, skilled labor and logistics cost, and material wastage saved from its use is undeniable. Real estate developers all across the globe expect to cut down labor costs by 60% and the overall construction cost of a building by a whopping 80%. Where this technology is going to head in the future is something only time will tell.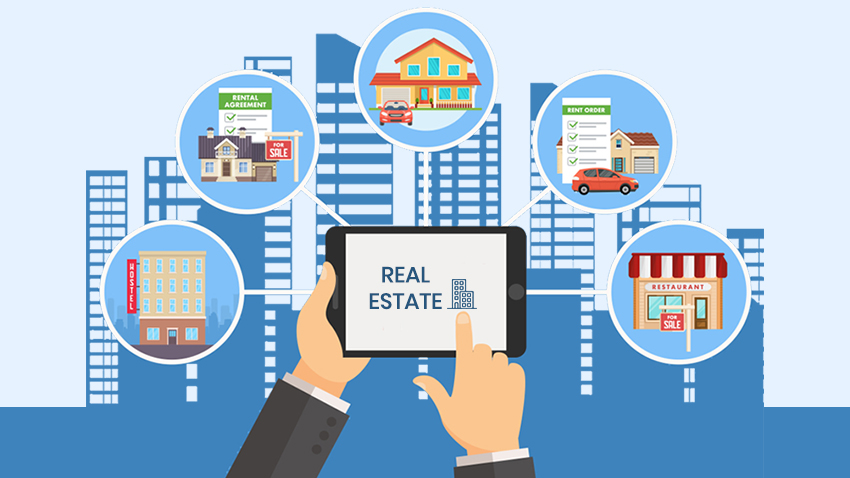 Artificial Intelligence And Machine Learning
Artificial intelligence and machine learning are making our computer systems more equipped and skilled than ever. They can predict consumer behavior through user pattern recognition and other interest online. With the right algorithms and machine learning framework, computers will be able to understand the behavior and investment patterns of wider markets, local demographics, and even down to individual clients.
Smart Use of Mobile Apps
The mobility, the ability to reach the target audience, and the access to information that smartphones provide are exceptional. We can't emphasize enough the importance of mobile applications for any industry. Whether you are about to order in food or are looking to catch a ride to the airport or want detailed insights into your business, mobile apps offer you features and services that are unparalleled to any other platform. Mobile apps that are meant specifically for the real estate sector offer easy discovery, property valuation, customer information, appointment scheduling, mortgage services, agent information, reporting, contractor information, and much more. But first, you need to define the use of the mobile app you want to acquire. Perhaps you want it for your potential customer to give them the ability to browse, book a property tour, buy or sell real estate from the palm of their hand. Or maybe you want the application to help you manage everything from properties, clients, agents, and more anytime and from anywhere.
Not just another CRM or ERP
Let's just face it, the traditional CRM or ERP software are useless; they are either too cumbersome to use, have a big learning curve for any new staff member, and apart from data management don't help your business in any way. Smart real estate businesses are investing in online business and workflow automation applications. These applications are cloud-based and mobile apps based platforms ideally designed to suit your business operations and processes. They are enabling real estate developers, agents and brokers to not only manage their customers, finances, inventory, supply chain, and staff – but also can provide useful insights into the business operations that can help in boosting revenue and increasing profit margins. The right web or mobile application also gives you a strong sense of your marketing pipeline and helps you identify the areas where you need to work on quickly so that you can convert your leads to clients before they are lost to your competition.
Internet Of Things (IoT)
A lot of us don't even understand what the internet-of-things means. The easiest way to understand IoT is the use of the internet along with digital devices to either perform certain actions or gather data without the need of direct human interaction. Wondering how internet-of-things can help your real estate business?
Monitoring of assets: Sensors deployed on construction equipment and machinery can help track their movements of assets in real-time across different locations.
Predictive/preventive maintenance: The integration of IoT sensors with the machinery can also help in preventive maintenance, as the IoT applications can send alerts to the maintenance workforce to ensure timely action.
Material tracking: IoT smart devices can be leveraged to check the availability of stock and assets at construction sites. This can help in minimizing the risk of theft and wastage, optimize usage, and explore new ways of monetizing construction assets.
Energy monitoring and saving. Sensors can track operations of machines like the elevator, HVAC system, lighting system, and much more, by collecting data like operating time, occupancy, idle time, and maintenance cycles.
Improve house search experience: Smart devices can help agents understand the areas where customers spend the most time on a property tour, which parts get the highest attention, etc. Houses for sale can now have beacons that are capable of sending push notifications to potential buyers, and along with it, the specifications of the property that enables buyers to make decisions quicker.
Critical decision making: Every type of business needs valuable and actionable insights to improve sales and increase profits. IoT devices can provide information on prospective buyers that real agents can leverage to gain their confidence. Investors can use these analytics to make informed and quick decisions.
Final Thoughts
Technology and the use of web and mobile app based software solutions are growing and evolving at a rapid rate. The only way to stay ahead of competition and match page with this technology is to embrace it. You can start by:
Automating all your back office operations
Collecting data and useful information about all your existing and potential clients
Simplifying customer relationship management
Implementing modern-day property management tools
Investing in business analytics to understand the latest trends in the real estate industry
Investing in customer insights to understand their behavior
Focusing on the right target market and promoting your products and services to them
Investing in technologies that would make it easier for your prospects to find your properties
These were just a few steps that you can take to embrace the modern-day technology that aims to disrupt the real estate industry of today and the near future. For more information on these technology trends and how you can adapt them for your business ideas or challenges, you can consult Zapbuild's technology experts today!
Receive Expert Insight By Email
You can receive more such insights, ideas, and solution recommendations from our IT experts – directly in your email, absolutely free – by subscribing to our blog.
SUBSCRIBE NOW