There is a long list of woes that give real estate developers, agents, brokers and property owners nightmares as we speak. The real estate market is supremely volatile. There will be moments when you will be tempted to call it quits. This is primarily because of the most challenging situations that turn up abruptly absolutely out of nowhere. Following is a list of such challenges and the respective solutions a property/real estate management software can offer:
1) Shortage Of Time
Whether its real estate agents or brokers, real estate developers or property sellers, they all know that property management and listing is a very time consuming process. It also takes up a lot of their resources and they are required to deal with several issues at once, whether it is rent management, acquiring new properties or handling payment responsibilities and the like.
Solution
Investing in the right property management software can lighten all these burdens. Your responsibilities will be sorted and automated. You can focus on your team and more important issues of your business that surround the core responsibilities that you should be performing.
By having the right real estate management software solution, you can focus on:
Planning ahead
Creating long-term solutions for your buyers and tenants
Acquiring new and promising properties
Managing resources
Handling repair and maintenance requests personally
Catering to rental agreement woes and much more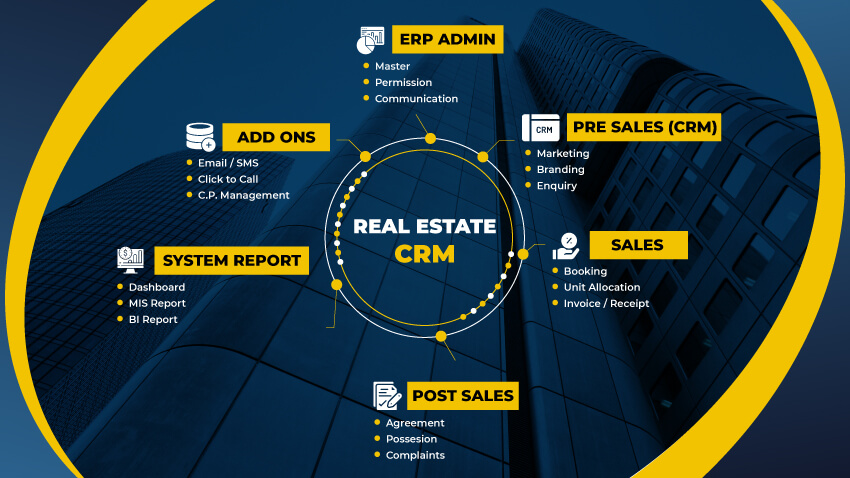 2) The Increasing Cost Of Overheads
For any company to grow, the best and easiest way is to invest in resources and acquire a more talented and bigger workforce. But this might turn out to be an expensive affair.
Solution
If retaining and sustaining new employees or expanding your workforce is an issue which is quite clear in the present scenario, a property management software will help. It is going to automate several of your tasks and responsibilities and streamline your entire workflow. Your operations become easier and more efficient. Even if you have a relatively small team of people to handle your business, they will be well trained and equipped with the right software solutions to make the most impactful and knowledgeable decisions that will lead to business prosperity within no time.
3) Restricted Access And Control Over Data
The most important thing that any user is going to need is access to data 24/7. You do not wish to spend time, money and resources looking for documents, making their copies and then storing them in different locations for easy accessibility.
Solution
A reliable and well designed property management software is going to make data management transparent and simpler. All your data and statistics are going to be stored in one location that can be easily accessed by every authorized user. It will save you time and speed up your workflow as well. Your management and accounting systems will be well integrated into the software so that all your data is in one place and you have complete control over it. You can access the necessary files and documents from a single dashboard that will be feature-rich and easy to use.
If people don't recognize technologies are existing and, moreover, how to integrate them, opportunities are being missed.
4) Communication Is A Two Way Street
One of the biggest causes of frustration among the real estate community is the inability of agents and brokers to communicate constantly with their consumers. Whether it is a tenant or a potential investor, a property owner/agent just cannot afford to miss any calls or emails and let them go without replying to them. The answers that the potential investors/buyers seek from the real estate developer/agent are going to help them make a significant purchase decision.
Solution
Whether it is your existing tenant or a potential one, a commercial investor or a residential buyer, a small scale investor or a large scale commercial conglomerate, your property management software should enable easy and frequent communication with all your prospects. The software solution should have dedicated portals for all the users, right from agents to investors and tenants to homeowners. This will facilitate easy communication among all the parties and address:
Any repair or maintenance requests
Any inquiries directly related to any new property listings
Questions regarding recent price drops
Queries related to the availability of certain properties
Changes in their rent agreement or property deed and the like
5) Managing Contacts Is A Big Problem
Any real estate broker/agent or property owner faces this issue when it comes to listing new properties. Everyone has to be kept in the loop and all the prospects that are willing to make an investment need to be emailed regarding even the minutest of updates in the database.
Solution
Research shows that without using a real estate management software only 12% of your existing clients can be retained in the long haul. A reliable and scalable real estate management software is going to let you create groups of contacts for easy and direct access. They are designed in such a way that detailed information about all your clients will be displayed along with the names of all your leads. All these clients can be contacted about even the smallest of updates done in your database from just one dashboard. It helps agents and real estate developers strengthen their relationship with their existing clients and also capture new markets with minimal effort, thus enabling them to foster long-term relationships with all of them.
6) How Are You Going To Manage All Your Payments?
Your payment schedules are difficult to achieve, let alone maintain and run efficiently. Moreover, the mapping function of any and all information related to the properties is incomplete and useless without having complete knowledge about the financials attached to them.
Solution
Your tenants are going to require regular information and updates regarding the renewal of their lease, termination of their contract, related paperwork that sheds light on their payment schedule and details about the maintenance of the property and several other points. You can easily set reminders for these actions and even make sure that all the fees are collected on time. Also, reminders can even be set for everyone using your platform to enable them to make their respective payments to you on time which eventually contributes to healthy business relationships.
7) Timely Reporting And Analysis Generation Is A Critical Aspect Of Real Estate Management
If you want to manage your business efficiently, you need to review the work done by all your employees and match up your revenues with your monthly or annual objectives stated in your business plan.
Solution
Will you be able to generate reports on your own? Given the numerous responsibilities that you have to perform, choosing the right real estate management software is the only practical way to go about it. These automated reports will take in all the data that you have fed into the database and create a list of pending tasks and easy mapping of properties over a period of time. You can compare the target achieved with the targets set in your business plan to determine the effectiveness of your operations. These reports will also provide useful feedback to all the concerned parties about the adopted strategies and the effectiveness of the medium of communication and advertisements that you have chosen for every category of property listed with you. It will help you by giving you useful insights as to what subjects and investment avenues to focus on while sending out promotional emails, advertising your listings, deciding upon the age demographic that has gained the monetary ability to invest in real estate and so on.
Final Thoughts
A real estate management software is not a simple tool with a singular purpose. Such software platforms are developed keeping in mind the dynamic nature of the real estate industry. With over $76 billion in revenue, this industry is destined to grow by leaps and bounds. We at Zapbuild encourage new innovations and our AI powered software applications enhance your operational efficiency. We understand that the needs of 280,000 property management companies in the US are going to differ from one another.
Recommended reading
Compliance Management Application – A New Age Construction Industry Standard And Its Feature
Receive Expert Insight By Email
You can receive more such insights, ideas, and solution recommendations from our IT experts – directly in your email, absolutely free – by subscribing to our blog.
SUBSCRIBE NOW