There is a constant debate among experts and developers, users of building construction management software, its proponents and opponents about how such a platform can be useful or maybe not.
What Seems To Be The Hype Surrounding Construction Project Management Software?
If you want to shift to commercial project management software, you must have some strong reasons to base your decision on. Clearly, you are aware of the many advantages it brings to your business. But if you are new to digitization and a little more set in your old ways, you will be a little resistant to this change. The reasons that you are going to put forth for not using a cloud-based system or software to manage your construction site would most probably be the following:
Expensive Investment
We all know that a quality project administration software is always going to cost you more money than any other run of the mill platform. The price tag that they come at might be a very strong reason that you are afraid of such an implementation in your business.
Complexity
Digitization is never easy, especially when you are completely dependent on old school methods of work scheduling, planning, progress tracking and overall task management. Investing in project management or timeline software is going to come with a lot of learning curves. It will take a lot of time and effort on your part and on your employees parts as well to understand the software and use its various components smoothly.
Management vs. Execution
It is very easy for you and your builders and contractors to forget the task at hand and rely completely on the software system. Your project managers should not allow themselves to become completely dependent on the software and also ensure that all your team members are regularly making progress and submitting the deliverables on a timely basis. This is apparently a big hurdle to overcome.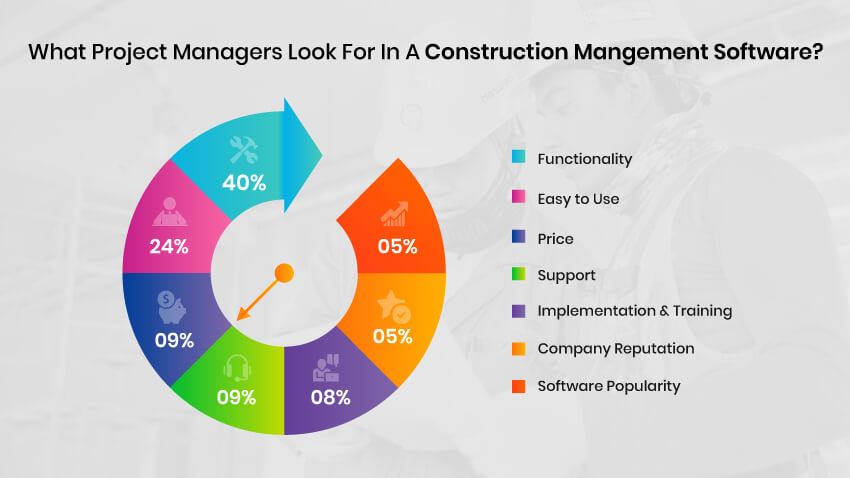 Access Control
Some also argue that multiple access controls give unauthorized information to people who are not meant to view or use sensitive project data. Their argument that critical and private company information becomes available to several users or contractors or subcontractors that are not needed in the loop does hold some ground.
Interface
You and your team are probably used to the traditional spreadsheets and other forms of record-keeping and old ways of resource management. The critical switch that you are going to make from this to a modern application interface is going to cause a lot of teething problems. This might discourage a lot of users from making this switch and might also make them want to go back to their traditional methods of doing business. If you look at these cons or disadvantages of using construction software, they might come across as a child's excuse. They do however hold some ground but the many advantages of using it most definitely outnumber the disadvantages.
Everything In One Place
Construction project management software gives you a centralized platform where you can handle every piece of data in one place. All users can collaborate fluently and smoothly. Your technical engineers can connect with your repairmen and your inventory department can connect with the designing division, making cross- department communication and data sharing effortless and quick.
You Can Establish Clear Goals
Any project is incomplete without any goals and objectives and this is exactly what a building construction management application lets you do. You can improve your team productivity by setting your goals and those of individual divisions and departments instead of just robotically assigning them tasks with no purpose. You can set deadlines for each operation and priorities each of their tasks and subtasks, essentially taking full control over your construction planning and management, all the while remaining within your budget.
Bird's Eye View Of Your Project
This is where you come in touch with reality. With a construction project management system, you have access to true and practical insights that are going to help you oversee the workflow of your teammates and identify any bottlenecks that seem to slow down the whole work.
You can prevent overloading certain teammates with too many tasks and maintain workflow efficiency throughout.
Know The Status Of Each Project
There might be several projects going on simultaneously and you might be looking for a way to keep track of every single one of them. With an online construction project planning and scheduling system, you can priorities and emphasize on tasks without losing sight of any single one of them.
Enhance Team Collaboration
A construction management software for builders and contractors enables all team members to update the status of their work and catch up with all the important meetings. With a unified software platform, you can manage your team members and make sure that everyone is aware of the latest developments in your project and also include them all in the workflow to fill out any gaps. You can keep them all aligned and focused so that all the tasks get completed within the stipulated time period.
Fewer Meetings
Who does not want more time on their hand? When you are connected constantly with your teammates, you do not have to spend any more effort for the time in frivolous meetings and team huddles. You are connected with the software and that software connects you with everyone on your team and that removes all the fluff in between and lets you get to the point without wasting any time. You can convey important messages across quickly and keep them updated on the available inventory and changes in priorities of tasks if any without wasting valuable time.
24/7 Access
With a cloud-based software that lets you manage your construction site, you don't have to worry about any document being left in someone's email or any important notes getting locked away in a file stored in some hard drive. With apps and cloud-based real estate platforms, you have everything online and on the go. All you have to do is just login with your credentials and you have quick access to everything you need.
Improve Productivity
We cannot stress enough on the fact that digitization of your entire construction management operation is going to enhance your productivity by facilitating instant creation and assigning of action items, collaboration among all your team members, customization of your workflow, changes in priorities, even at the last minute, smart search function within the app, artificial intelligence assistance, elimination of duplication of effort and operations and much more!
Final Thoughts
By digitizing your construction site operations you are going to be embracing the future which is not so far along. You need to understand that much better productivity platforms and faster project management solutions are already on their way. Numerous global tech giants across the world have begun their 5G trials already and this is just one of the countless aspects of mobility technological advancement that will directly impact the operational speed and productivity of several industries. With enhanced connectivity and instant access to tremendous amounts of data, you want to be at the top of the game. If you are not among the leaders, you are not anywhere.
Whether you're looking for commercial or residential construction project management solutions, the best solution is one which is suited to your operations and work management.
Recommended reading
What Does The Future Of Online Real Estate Look Like
Receive Expert Insight By Email
You can receive more such insights, ideas, and solution recommendations from our IT experts – directly in your email, absolutely free – by subscribing to our blog.
SUBSCRIBE NOW