Healthcare App Development Company
Get Fully Customized Or Readymade – On Demand Healthcare App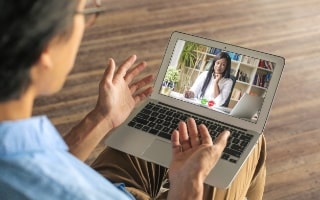 Telehealth & Telemedicine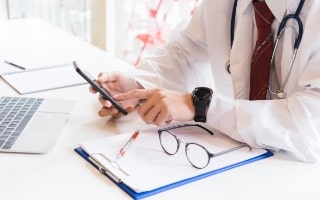 Electronic Health Records (EHR)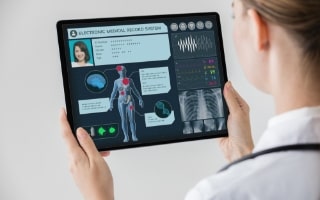 Electronic Medical Records (EMR)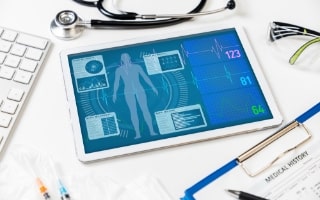 Personal Health Records (PHR)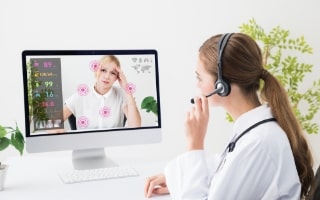 IOT Remote Patient Monitoring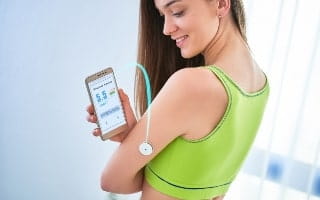 Home Health Care Management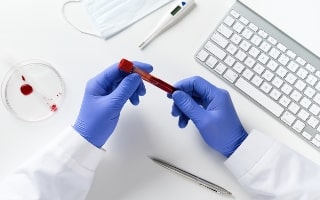 Laboratory & Pharmacy Integration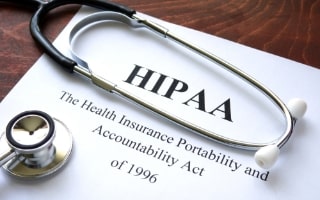 HIPAA Compliance Solution
You Can Build A Profitable On-Demand Telehealth or Telemedicine App
Deliver your healthcare services from a distance. Connect patients with healthcare specialists directly from the comfort of their homes.
Let's Help You Get Started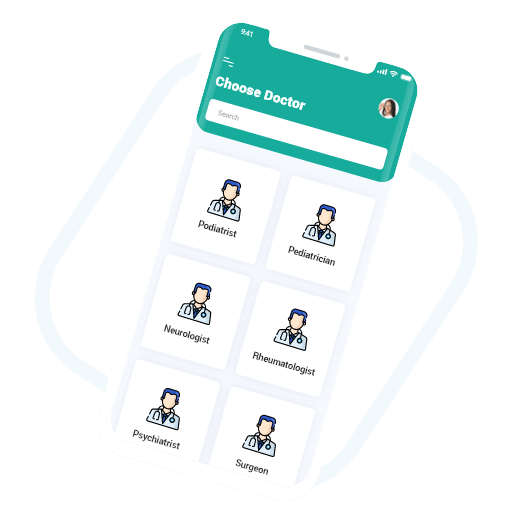 Complete Technology Suite For mHealth App Development Needs
Get a full complement of our web and mobile apps that help you double your productivity with various consultation modes, appointment bookings, managing health records, medication tracking, and more.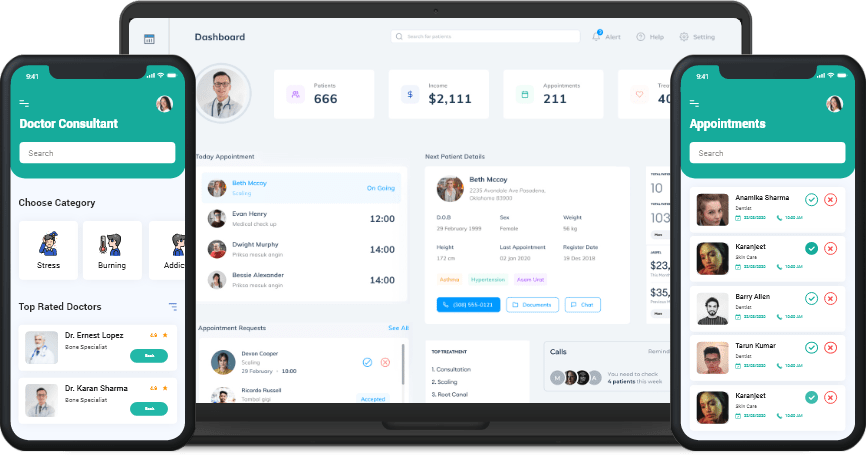 Patient Dashboard
Let patients schedule appointments via web & app with a specialist of their choice from anywhere & at any time.
Hospital/Clinic Dashboard
Manage online appointments, payments, and the healthcare staff all from a single interface with 100% security.
Doctors/Nurse/Admin App
Doctors/nurses/admin can share doctor's real-time availability with customers to let them decide the best & improve calendar utilization.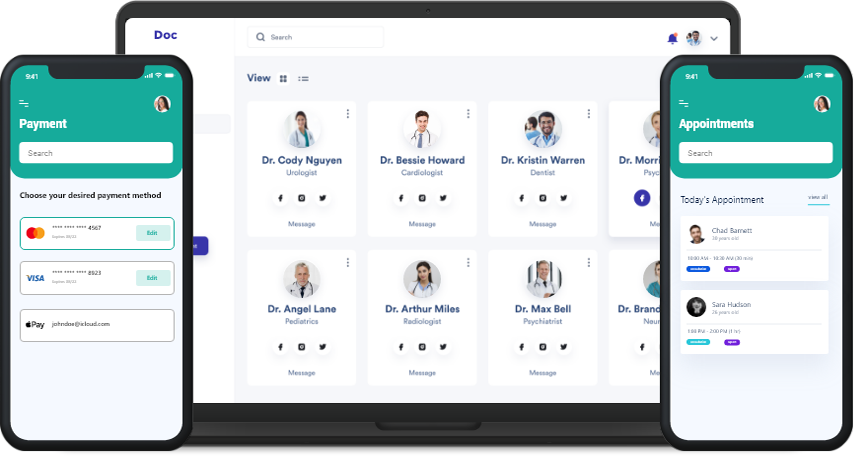 Multiple Payments Tracking
Track your daily transactions and revenues collected over a period of time.
Doctor Listing and Profiles
List different doctors or consultants on your healthcare app for patients to connect with.
Push Notifications, SMS and Email
Send push notifications through email or SMS to patients for appointment reminders and more.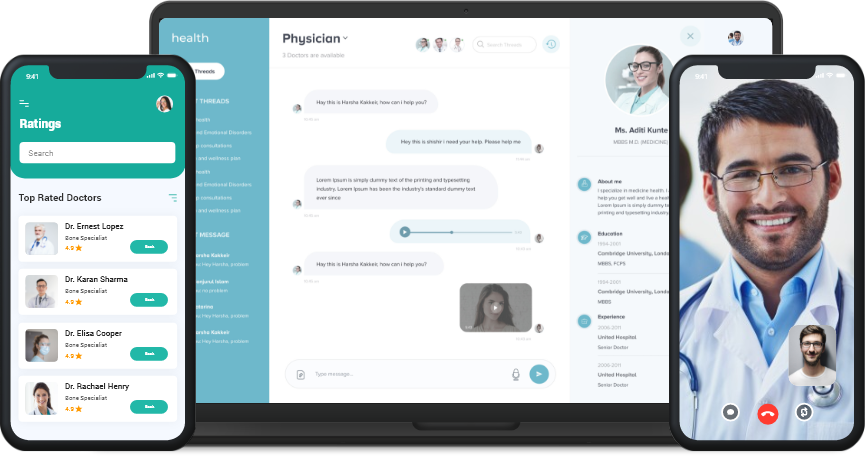 Review And rating
Patients can leave their feedback & help others select doctors based on basis of the same.
In-App Chat Consultation
Real-time chat allows patients to connect with the best doctors for appointments, prescriptions, etc.
Live Video Consultation
Patients can consult directly experienced healthcare experts while staying at home.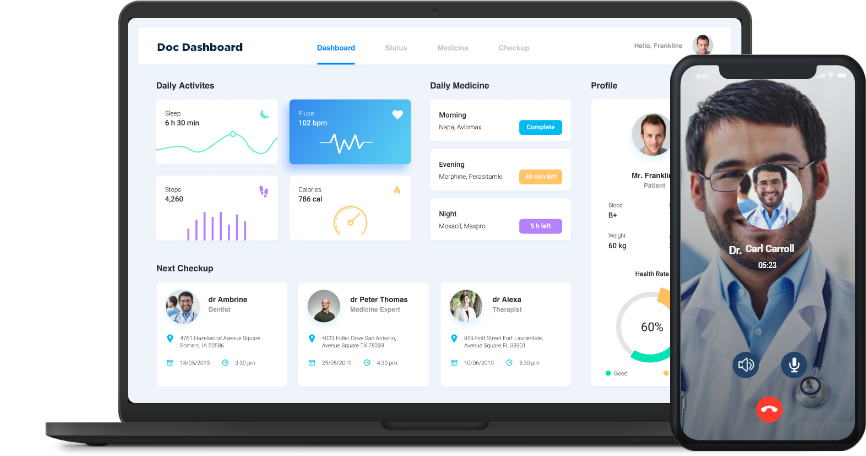 Upload Prescriptions & Report
Doctors can provide digital prescriptions, share medical reports & avoid unnecessary follow-up
Voice Doctor-Patient Consultation
Patients can easily discuss their health issues with experts without going to the clinic. Voice calling feature helps doctors answer their patients' problems & doubts anytime.
Previous
Next
How Your Healthcare & Fitness Consultation App Would Work
Your healthcare platform deserves all the advantages that digital technology delivers. You can get the entire functionality customized as per your needs.
Patient Registration

Process for the patients to register on your online health consultation app.

Visit Dashboard

Search for illness/health problems to reach out to a relevant healthcare expert.

Choose a specialist

Pick from the list of doctors available & book online appointments.

Experts consultation

Selected doctors will provide health consultation via call, video or chat, and get paid instantly.
Online Healthcare Software Development Solution For All
The healthcare web and mobile apps that we develop provide an optimum solution to all your online healthcare solution needs.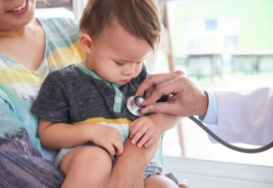 Pediatric Consultation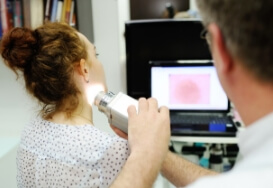 Dermatologist Consultation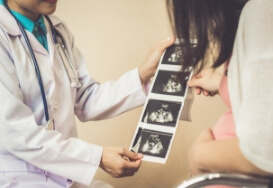 Gynecologist Consultation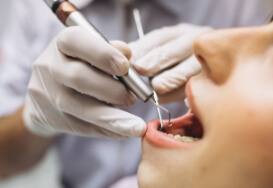 Dental Consultation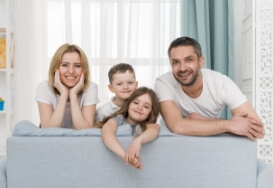 Family Consultation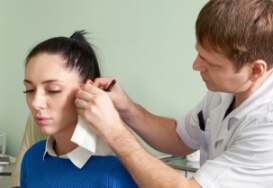 ENT Consultation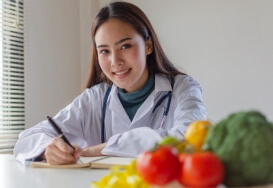 Nutrition & Lifestyle Consultation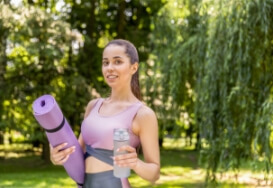 Fitness Consultation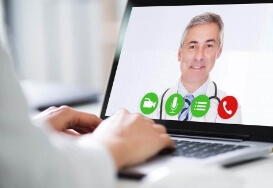 Surgeon Video Consultation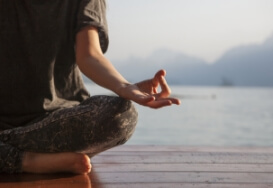 Yoga & Meditation Consultation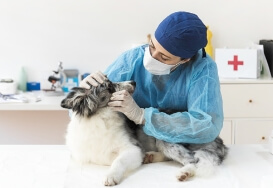 Veterinary Consultation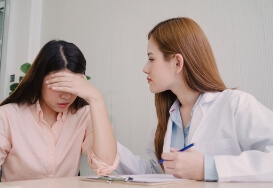 Psychiatrist Consultation
Benefits of Healthcare Mobility Solutions
Beneficial to not just patients and the doctors but also the medical staff, and the hospital administrators.
Improve Patient care

Give your patients quick & accurate care solutions

Quick Decision Making

Take life-saving decisions with important data available in real-time

Data Security

Secure medical information to maintain patients & doctors confidentiality

Reduce Time & Cost

Cut down on the cost & time for patient care, assuring the right medical solution

Real Time Tracking

Track & deliver medical services to patients in remote areas.

Streamline Clinical Process

Automating your care coordination process and optimizing patient's journeys.

Increase Productivity

Reduce paperwork and increase productivity for smooth operations.

Reduce Risks of Diagnostic Error

Intelligent diagnostic capabilities can reduce the error rate and provide drug predictions.
Case Study
25+ healthcare applications successfully delivered to our healthcare clients worldwide. Here are some of our notable works. See how we have turned their ideas from concept to reality and helped them double their productivity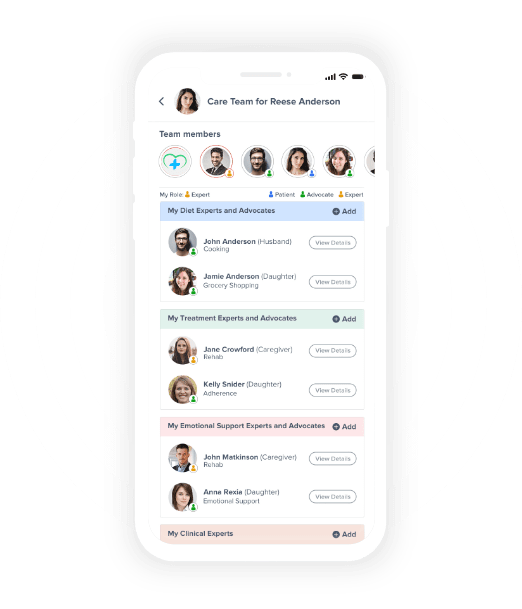 Health Care
"Telemedicine/Telehealth Consulting Platform"
Complete patient recovery journey through secured discussion of the first and the second opinions on your disease from clinicians and experts with families and friends.
Available on


$90Million
Funding Raised
View Case Study
What Our Clients Say
Don't just believe our words. Hear from our clients how we turned their ideas into profitable solutions.
"I've worked in startups my entire career, and in my opinion, the most important skill a technical firm can bring to a rapidly evolving entrepreneurial environment is the ability to proactively solve problems as they arise. Zapbuild consistently recognizes and solves complex problems before they even cross management's radar. This is an incredible gift with real multiplier effects for our growing company."
– Brian Cambell (Los Angeles, USA)
"Zapbuild is simply amazing! My working relationship with the team at Zapbuild has been extraordinary, due to their constant commitment and ability to stay on schedule with results. They have never let me down in the years that we have worked together. Zapbuild is always professional and courteous and responds quickly to my needs and questions. The Zapbuild Team has proven to be creative in problem resolution, reliable in time commitments, and overall consistent in meeting and exceeding our expectations. The work is always above and beyond what I could have expected."
– Ralph Reilly (Newington, USA)
"I was extremely happy with my experience with Zapbuild. The team far exceeded my expectations and I will be eager to work with them again on my next project. If you hire them you'll be happy you did."
– Jesse Boring (New York, USA)
"I am writing to thank Zapbuild for their first-rate effort in putting together the creative and user-friendly website. Their professionalism, advice and assistance throughout the process had been invaluable. Their technical competence and implementation of the requested features was completed quickly and effectively. All in all, their team did an excellent job! They are a professional, responsive company with a 'will-do' attitude and the competence to deliver. We look forward to working with Zapbuild in the future."
– Heather Artura (Los Angeles, USA)
"The Zapbuild team gets it done, period. They are resourceful, punctual, and a pleasure to work with. The project team consisting of engineers, designers and QA had impressive English skills and always made themselves available to jump on a call or reply to emails as soon as possible. I recommend anyone who's interested in building a custom web application, to consider this team. We've been more than happy with the results so far."
– Brett Bernstein (Palo Alto, USA)
"These guys were really excellent and went above and beyond. It's wonderful and they were a joy to work with. We will definitely do more business with them and I would more than 100% recommend them to anyone else!"
– Clever Mukori (Fargo, USA)
"Zapbuild did a fantastic job at delivering a complex, bespoke web application for our business. The team was very helpful and accommodating, responding quickly to any issues as they arose. They made every effort to meet all deliverables and provide all necessary QA work, and went about their work in a polite and professional manner. I would recommend Zapbuild to anyone seeking quality and value for money in their IT development partner."
– Campbell Mc Pherson (Camberwell, Australia)
"The Zapbuild team are a team of expert coders with a great sense of design. I found them to have a terrific ability to work through my brief and add features and requirements that I hadn't considered integrating. They are professional in their approach, and a delight to work with. I especially recommend them to Australian companies due to a reasonably short time difference, that allows some crossover time for communication. Thanks so much for all your work, it was terrific."
– Renata Bliss (Sydney, Australia)

Previous

Next
Why Choose Zapbuild
We Are Passionate To Help Your Business Thrive

On Demand Solution

Customize The Way You Like

Tried And Tested Solution

Free Consultation

24/7 Support

Quality Assurance
210 +
Certified Software Experts
12 +
Years of Industry Experience
410 +
Happy Clients‎‎ Worldwide
99 %
Customer Satisfaction Rate
We help keep your Business Stay Healthy Inside Out
37 %
Rise in Home Healthcare Appointments (Monthly)
40 %
Clinical Appointments increased (Quarterly)
52 %
Rise in Medical Treatment Plans (Annually)
70 %
Rise In Patient Care (Annually)
We Guarantee Medical Application or Software Development Solutions That Ensure Incredible ROI
Get Started Today