Zapbuild Develops
LMS Solutions

For All Types of Educational Institutions
E-Learning mobile app, software, website development service for all types of Schools, Colleges, Universities, and Educational Institutes and Academies
Schools App
Streamline communication with parents, teachers, students and other staff members of school.
Teachers/Student App
Get access to the status of all communication between teachers and students.
Personalized Training App
No matter where you are, there's an app to help you scale your personal training business.
College App
Get instantly connected to your students whenever you want with your own college through a branded mobile app.
Language Learning Education App
Streamline communication with parents, teachers, students and other staff members of school.
Preschool/ Kindergarten App
All-in-One solution to manage your Preschool, Daycare activities digitally.
Course Management App
Bring educators and students together with your own handy app for course management.
University App
Manage entire communication, content, staff and student directory in one centralized system.
Top Categories of
Educational Apps

Developed By Us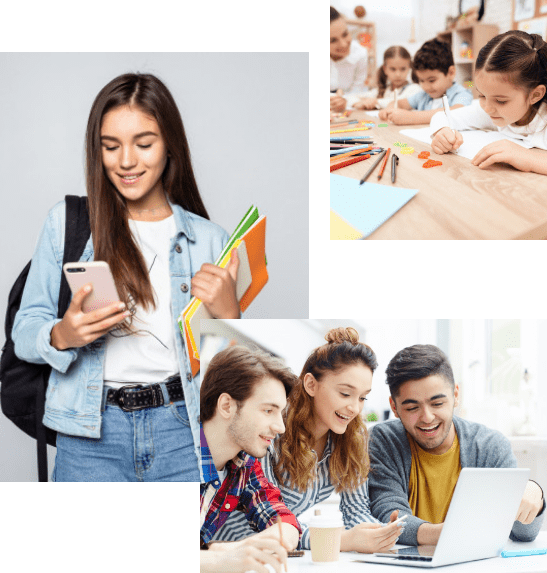 K-12, Public & Private School, Elementary School, Montessori School, Pre-school, Primary and Secondary School, Traditional Public School, Music & Dance School, Acting And Drama School, Art And Drawing School, Military & Army School, Charter Schools, Business Schools, Boarding School, Language Immersion School, Home Schools & Hostels, Virtual School & Gurukul, Parochial & Religious School, Special Education & Magnet School, Transgender & Orphanage School.
Arts, Architecture, fashion designing, interior and exterior design, robo classes, beautician, Dietician, sports, Nursing, cooking & Hobby, cultural academy, multi-language learning, swimming, Ayurvedic Institute, Arts, Architecture, Fashion Designing, Interior and Exterior Design, Driving, gardening, photography, abacus, cultural academy.
Medical & Non-medical Engineering, Law & Science, Arts & commerce, Research & Agriculture Universities, Public & Private University, Profit & Non Profit Colleges, Community (or junior) Colleges & Specialized Institutes, Post-Secondary Vocational-Technical Universities.
Complete
Online Technology Suite

For Education Businesses
With Zapbuild's online Learning Management Software development services, you can get a custom-made feature-loaded LMS solution that's the right fit for your education business goals
Teachers' App & Website
Teachers can manage attendance, students grades, exam sheets, upload regular assignments in text or video format, circulars and much more in daily academic activities.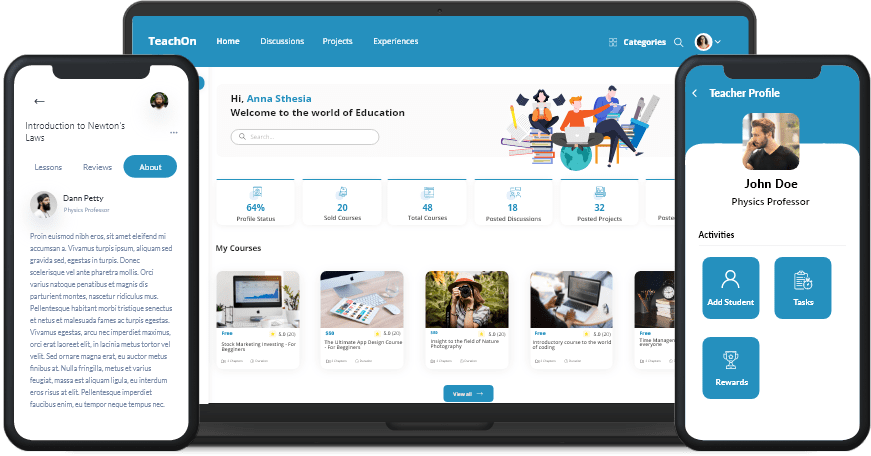 Teachers Signup

Create Classroom

Upload assignments

Communicate

Manage exam and results

Create reports and share
Students' App & Website
Students can access teachers information, subjects, syllabus, attendance sheet, transport, assignments, text or video content records, live interaction with tutors or other students, join/create the community to discuss queries and much more.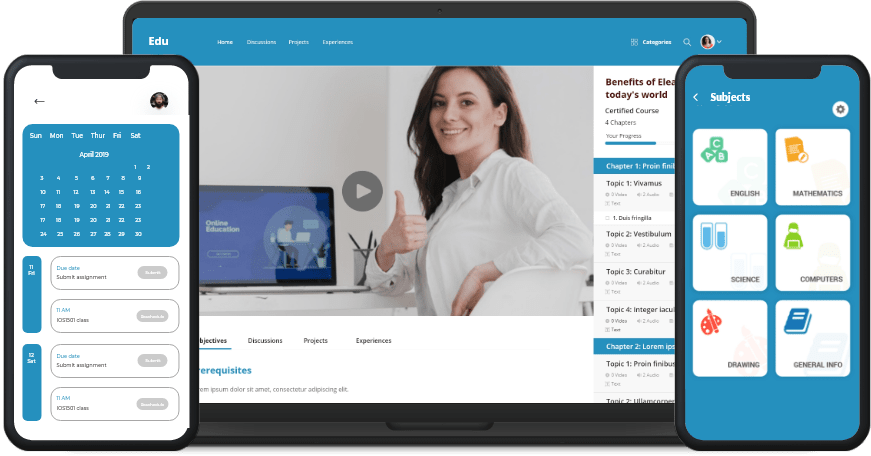 Signup

Dashboard

E-dairy

Learning Material

Online Forums

Online Forums and Groups
Parents' App
Parents can track a child's progress, holidays, attendance, meeting updates, fee notification, results, exam schedules, homeworks, bus tracking, upcoming events and much more.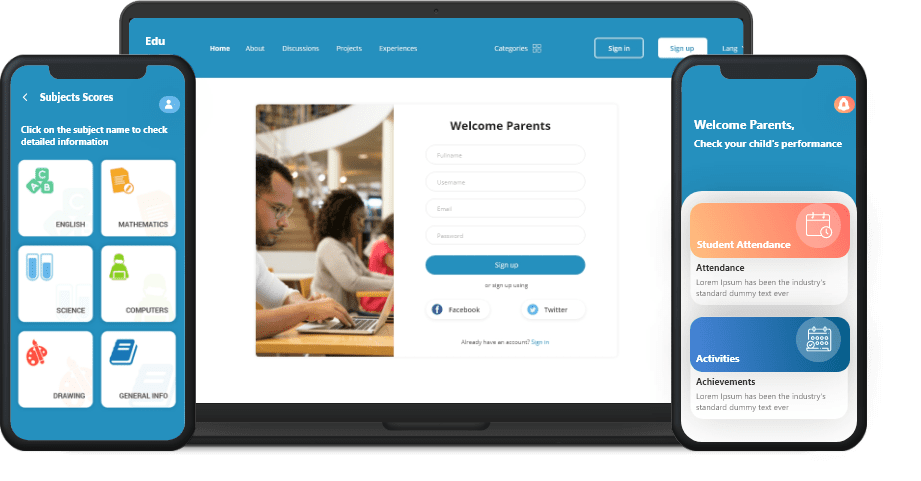 Parent Signup

Real time tracking

Daily alerts

View Performance Reports

Get Updates

2 way communication
Admin Web Dashboard
Manage students, teachers leaves, fee structure, salaries, building infrastructure & maintenance, Library, Transport, Exams, Notice, Events, complaints, interviews and more.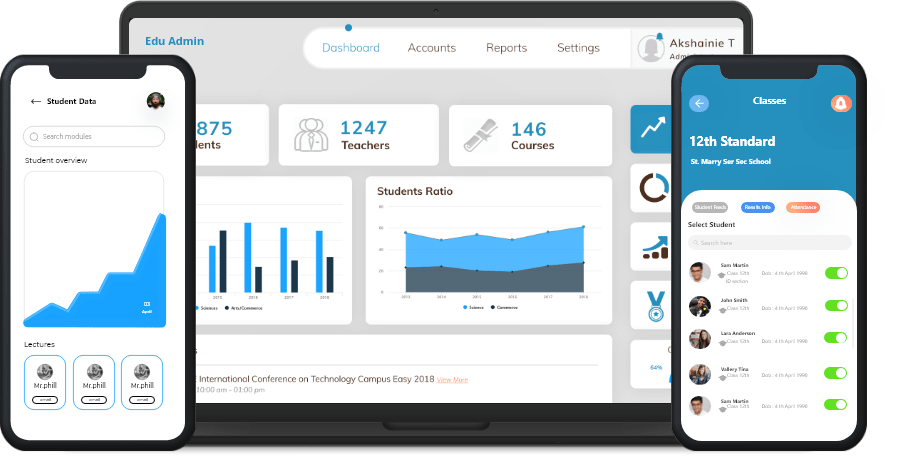 Admin Login

Visit Dashboard

Smart Management

Create/Manage Reports:

Access anytime anywhere:

Send Alerts
Previous
Next
How The
LMS Software Solution

Developed By Zapbuild Can Help
The LMS web and mobile applications that we develop provide an optimum solution to take your education business online.
Live Classes
Feature of Live Classes that enables instructors/ faculties to connect with faraway students in real-time. Also, it empowers them to engage with them the same way they engage in regular classrooms.
Access to Study material
Students can access the study material – notes, lectures, lesson summaries and more – anytime they want, wherever they are. Content management portal will make it easy for administrators/teachers to upload the content/courses/subject they want, and make frequent changes as per requirements.
Gamification
Adding gamification which employs game mechanics as part of your teaching strategy, making learning/training more engaging and exciting.
Dictionary/E-library/Assessments
Access dictionary or E-library anytime, anywhere through your education app. Evaluate given tests & quizzes and display advanced analytics, also competitive data about students pursuing the same courses.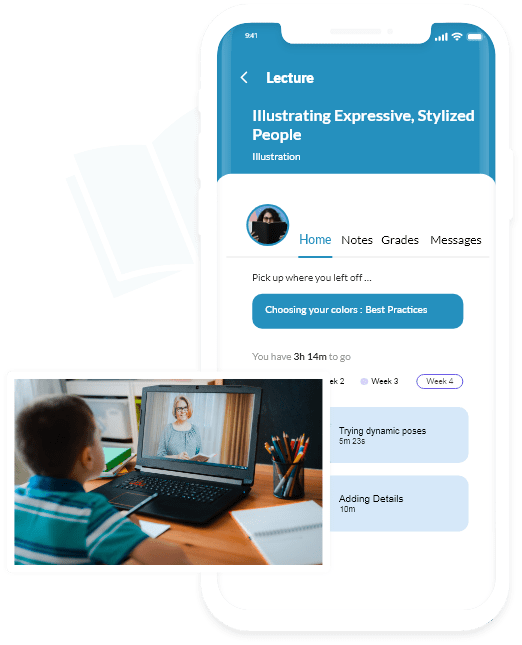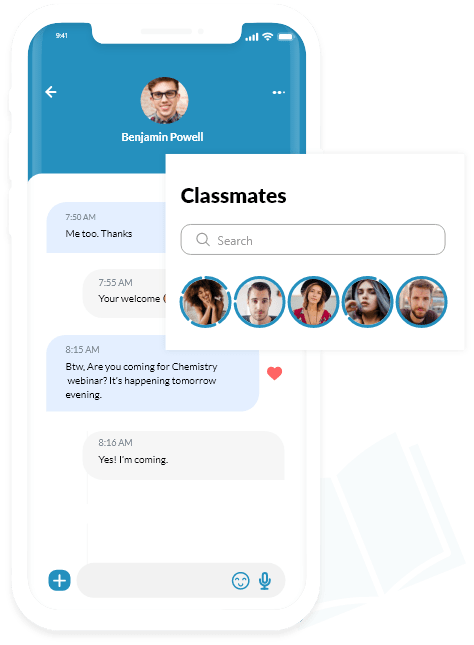 Bookings
Allow parents and students to book in appointments for parents evenings, school trips and more.
Push Notification
Send important reminders about events and school news straight to your students and their parents phone home screens.
Social Buzz
Enable students to share stories and snapshots from the campus on their social profiles. Instappy lets you integrate your app with 50+ social platforms.
Chat Rooms
Enable students to connect with other students on different subjects. Leverage peer-to-peer chat to create virtual learning spaces for online collaboration in real time.
Security
We offer complex & dynamic security and encryption protocols that ensure your content and tests are secure; so that doesn't leak potential revenue due to unethical external involvement
Payment
An integrated payment gateway, including all significant modes of payments such as debit cards, credit cards, and e-wallets, making it more comfortable for you to track fee structures
Reporting & Analytics
Real-time monitoring of educational process efficiency, training and skills assessment, attendance, results and revenue for both groups or individuals.
Audio Video Conferencing
System will include new Feed, Forums, high-quality audio and video conferencing, screen sharing, recording, live closed captioning, and automatic transcription that makes sure your content is visible on all devices and delivered effectively.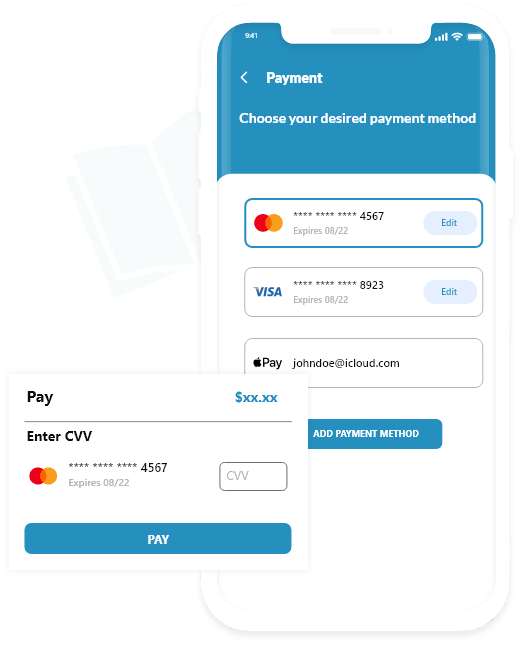 What Our Clients Say
Don't just believe our words. Hear from our clients how we turned their ideas into profitable solutions.
I've worked in startups my entire career, and in my opinion, the most important skill a technical firm can bring to a rapidly evolving entrepreneurial environment is the ability to proactively solve problems as they arise. Zapbuild consistently recognizes and solves complex problems before they even cross management's radar. This is an incredible gift with real multiplier effects for our growing company."
– Brian Cambell (Los Angeles, USA)
"Zapbuild is simply amazing! My working relationship with the team at Zapbuild has been extraordinary, due to their constant commitment and ability to stay on schedule with results. They have never let me down in the years that we have worked together. Zapbuild is always professional and courteous and responds quickly to my needs and questions. The Zapbuild Team has proven to be creative in problem resolution, reliable in time commitments, and overall consistent in meeting and exceeding our expectations. The work is always above and beyond what I could have expected."
– Ralph Reilly (Newington, USA)
"I was extremely happy with my experience with Zapbuild. The team far exceeded my expectations and I will be eager to work with them again on my next project. If you hire them you'll be happy you did."
– Jesse Boring (New York, USA)
"I am writing to thank Zapbuild for their first-rate effort in putting together the creative and user-friendly website. Their professionalism, advice and assistance throughout the process had been invaluable. Their technical competence and implementation of the requested features was completed quickly and effectively. All in all, their team did an excellent job! They are a professional, responsive company with a 'will-do' attitude and the competence to deliver. We look forward to working with Zapbuild in the future."
– Heather Artura (Los Angeles, USA)
"The Zapbuild team gets it done, period. They are resourceful, punctual, and a pleasure to work with. The project team consisting of engineers, designers and QA had impressive English skills and always made themselves available to jump on a call or reply to emails as soon as possible. I recommend anyone who's interested in building a custom web application, to consider this team. We've been more than happy with the results so far."
– Brett Bernstein (Palo Alto, USA)
"These guys were really excellent and went above and beyond. It's wonderful and they were a joy to work with. We will definitely do more business with them and I would more than 100% recommend them to anyone else!"
– Clever Mukori (Fargo, USA)
"Zapbuild did a fantastic job at delivering a complex, bespoke web application for our business. The team was very helpful and accommodating, responding quickly to any issues as they arose. They made every effort to meet all deliverables and provide all necessary QA work, and went about their work in a polite and professional manner. I would recommend Zapbuild to anyone seeking quality and value for money in their IT development partner."
– Campbell Mc Pherson (Camberwell, Australia)
"The Zapbuild team are a team of expert coders with a great sense of design. I found them to have a terrific ability to work through my brief and add features and requirements that I hadn't considered integrating. They are professional in their approach, and a delight to work with. I especially recommend them to Australian companies due to a reasonably short time difference, that allows some crossover time for communication. Thanks so much for all your work, it was terrific."
– Renata Bliss (Sydney, Australia

Previous

Next
Why Choose Zapbuild
We Are Passionate To Help Your Business Thrive

On Demand Solution

Customize The Way You Like

Tried And Tested Solution

Free Consultation

24/7 Support

Quality Assurance
300 +
Microsoft Certified developers
20 +
Years of Industry Experience
We Guarantee E-Learning Software Solutions That Can Boost Profitability Of Your Education Business.
Get Started