E-Learning solutions have become big for schools, colleges, universities, and even corporate houses of all sizes. Given certain scenarios when educational institutions could be shut for unforeseen periods of time, the schools can end up losing fees money and parents can get frustrated fearing the impact on their child's education. Also, let's face it, children can be a real pain in the neck when they are constantly running around with nothing productive to do, even though no parent is going to admit that.
Any reputable school that can impart complete education to its students through online mediums is automatically perceived as technologically advanced and has an edge over its competitors. This calls for implementing an online learning management system that facilitates managing the entire course curriculum, delivering remote education through virtual classrooms, conducting tests through computer-aided assessment tools, and even managing the students, staff, and billing. Any parent would want to associate with such a school because they'd know that their child would not miss any important classes if due to any reason the child is not able to attend school.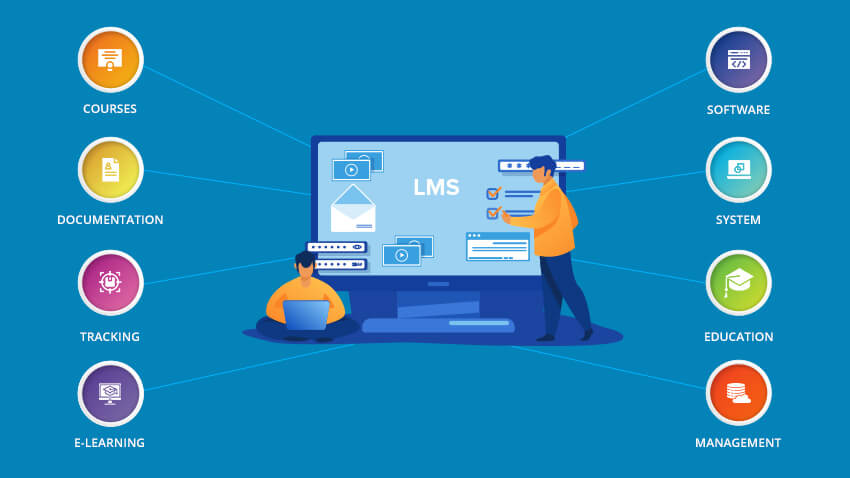 So how can a school use such a software application as their unique selling point and even charge a premium over its competitors? Of course, by telling the obvious benefits the parents and students can enjoy:
Convenience of learning from anywhere
Flexibility of timing
Uninterrupted classes
Regular exams and grading
All disciplines covered
Overall mental and tactical development, and much more!
And the fact that all of that is accomplished remotely through a unified e-learning platform is undeniably the best feature you could ask for right now. But when you look at it from the perspective of an educational institution, there are far greater benefits they receive as a business.
Let's look at the top 7 benefits of e-learning solutions and educational apps for schools in the current situation.
And also explore why a learning management system that's custom-developed for your school's operations and processes is the right choice compared to generic applications.
1) Efficient School Management
E-learning platforms do not just allow for careful selection and incorporation of learning materials but also the overall control of the school or college administration. These platforms facilitate communication among all users; teachers and trainers, students and parents, and administrative staff as well. The registrations and logins are managed online and all the users get notifications and reminders regarding any changes or updates made to the course or timetable on a timely basis. Creating an environment that is conducive to learning is easily accomplished with a modern and up-to-date online learning management system.
2) Managing Course Curriculum And E-Learning Flow
Administrators of the institution can manage and update the teaching content in real-time from anywhere. Your teaching material will not need to be spread across devices and drives anymore. It can be accumulated in just one cloud-hosted location where every authorized member of your team can access it and contribute to the online collaboration that forms the basis of any successful distance learning solution.
3) Multimedia Learning To Enhance Student Engagement
Up until a few years ago, we had only heard about informational videos and classes being conducted through video conferencing and the like. Today, businesses and several educational institutions have begun creating multimedia content that is aimed at unhindered distance learning. Education has become more interactive and personal with virtual classrooms, online collaborative whiteboards, live chat rooms, and flexible class timetables to access learning material from remote locations across a variety of smart devices. Everything is infused with interactive content such as videos, images, infographics, games, puzzles and much more. All of this enhances student engagement by multiples.
4) Testing And Grading Performance
The best learning management solution for your school will also be very efficient in tracking the progress and performance of all your students. It will allow teachers and parents to keep a close watch on their learning behavior and the disciplines that they excel in the most. Easy test and quiz creation and faster grading system can be built into these solutions which are faster and more efficient than traditional testing and grading methodologies. Tests can be in the form of objective type questions (multi-choice answers, true or false, etc) subjective type questions (essays, short answers, definitions, etc) dictations, quizzes, gamified puzzles, and more.
5) Improve Communication To Manage Student And Staff Endeavors
E-Learning solutions are fabricated to facilitate communication between people. Collaboration between teachers and students, administrators and institutional employees, course content creators and parents simplify the management of student and staff endeavors. You can keep everyone on the same page through global or individual chats, emails, personalized messages, public forums, query boards and timely notifications that will keep everyone updated on the most important developments at your school or college.
6) Expand Your Business Without Additional Infrastructure
You're running a smooth educational business and looking to expand, but not sure which market or location to target next? What if you had a tool that could help you deliver the same level and quality of education that you're able to impart at your school premises? Now, distance learning is nothing new – however, what's new and excelling is the technology that helps you deliver top-notch education remotely. The use of online classrooms helps reduce your overall business investment cost and risk as well. Because it facilitates the simultaneous education of students from different geographical locations, your institution can get more enrollments and a much higher return on their investment in a short span of time. You can deliver all your education material to students in distant areas through web and mobile applications, build a strong online student base and name of your institution in the target markets, and when you see good business coming from any particular location that's when you can plan to establish a new branch over there.
The global e-learning market is expected to grow significantly in the coming years. By 2023 it will be a $22.4 billion industry. It is expected to record a compound annual growth rate of 19.6% from 2018 to 2023.
7) Advanced Reporting And Data Analytics
If you thought that the creation of personalized reports on the progress of different learners and student groups accessing your learning management system is not possible, think again. You can get personalized and detailed reports of individual students as well as the teaching targets achieved by teachers, and the learning curve and trends over different periods of time. More importantly, you can get precise business insights into the efficiency of your institution and find out areas of opportunities to help you grow your business further.
SaaS Based E-Learning Management System – A Way To Grow Your Business Further With Innovative Commercialization
By now we all know that a right-fit online learning management system not only helps you capture more opportunities but can surely generate more profit for your educational organization. What's more heartening is that the cost of getting a customized learning management solution made for your school has plummeted over the years. Furthermore, farsighted businessmen are getting custom multi-tenant SaaS (online software-as-a-service) educational platforms created because the cost is virtually the same and, while they obviously use it for their own school, they are also making a profitable online business by selling subscriptions of the same to other schools and colleges. This is a trend that's effective as we write primarily because the investment is relatively low and returns are high.
Everything is in the favor of digital learning platforms right from the willingness of the users to adopt them, growing inclination towards such platforms over the traditional ones, to the advent of the "Bring Your Own Device" policy, enterprise mobility, extensive government initiatives to promote online education, increased usage of artificial intelligence and machine learning and complete cooperation from big business houses and academics alike. In the US alone, the educational learning management systems market is projected to attain a staggering valuation of $29,742 million by the year 2026.
So, getting a custom online learning management platform built for your school or college is the right move that you should make – but do remember to make a profit out of it by selling a piece of your pie to other schools or colleges. It is a great way of making money from a SaaS platform and it might just turn out to be a lucrative opportunity for growth.
For more such insights, don't forget to subscribe.
Recommended reading
Most Practical Use Cases of a Business Learning and Training Management System Software
Receive Expert Insight By Email
You can receive more such insights, ideas, and solution recommendations from our IT experts – directly in your email, absolutely free – by subscribing to our blog.
SUBSCRIBE NOW