You want the best e-commerce web and mobile solution for your business. You want your online store startup to be a success right from the beginning. That is a very novel thought. You know that the world has gone digital and your consumers like to shop on-the-go anytime and as per their comfort. You want to make the most of this and so you have decided to give your customers a seamless and uninterrupted experience with the best web and mobile e-commerce solution that you can get.
You want your mobile and web-based application to offer the best user interface, ease of transaction, the highest possible level of security, professional-looking graphics, and easy product search functionality to your users. However, if it's the first time you're taking your store online, there is a chance that you are running on a budget. You want it to be affordable yet rich with features.
So, what's the best website and mobile app solution for an e-commerce startup?
For this, you will need to prepare a checklist for your business idea and needs, and understand how a feature-rich and functional mobile and/or web application solution gets created. The ultimate 9-checklist entails the following points: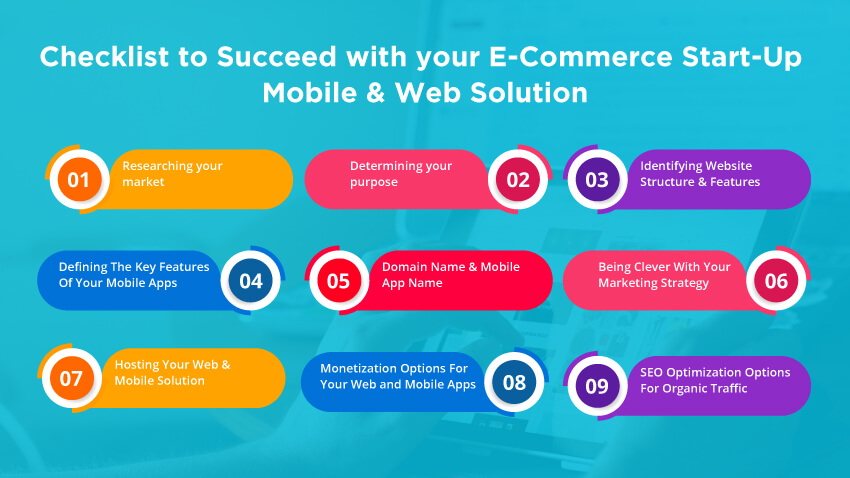 Let's take a look at each one of these in detail
1) Researching Your Market
The very first step that you need to perform in order to create the best web and mobile solution for your startup is to know and understand your target market.
Get a hold of who your competitors are
Understand their marketing strategy
Identify their weaknesses and strengths and those of your own as well
Take a closer look at what their customers are saying in their reviews and on social media channels
Understand what their unique selling point is and compare that with yours
2) Determining Your Purpose
You will have to ascertain the purpose of your website/m-commerce platform before you begin selling your products online. Is it only for the purpose of sale and purchase or also informational and promotional? Will you be including any written content in the form of articles and blogs on this platform? These are a few questions that you need to answer to determine the purpose of your desired platform.
3) Website Pages And Features
Decide upon the number of pages
What is going to be the amount of storage for all your images and videos?
Inclusion of tools like online forms, customer review windows, blogs and articles, maps and slideshows, etc.
How likely are you to incorporate links to social media channels?
Will there be any other authoritative integration that directs your users to more industry relevant pages?
The most appropriate and easily loadable video and/or audio players
Easy checkout process
24/7 tech support
Mobile device optimization
Easy content management system
4) Hosting Your Web And Mobile Solution
Your website needs to be hosted on a framework that suits your business and its scale. You will need a reliable web hosting company that offers seamless accessibility to your website.
5) Defining The Key Features Of Your Mobile Solution
Articulating your app's purpose is very important for your success. This is probably the trickiest step that you will be performing because it includes answering the following questions:
What is going to be the key functionality of your mobile app?
What is going to be the amount of storage for all your images and videos?
What is the unique selling point of your mobile app that would make your customers use it?
What is the added value that you offer your customers through this mobile/web solution?
What business goals is this platform going to help you achieve?
What benefits are there in this platform for your audience?
6) Domain Name
You will also have to decide upon a valid and available domain name. Choosing and registering this for your web address is a critical step
7) Being Clever With Your Marketing Strategy And Creating A Buzz About Your Brand
Your website needs to be hosted on a framework that suits your business and its scale. You should be able to begin small and easily scale up as your customer-based grows. You will need a reliable web hosting company that offers seamless access to your website.
Defining Your Brand
Your name, logo, colors and the font you pick is going to define your friend. The same is going to be displayed on your web as well as mobile solutions.
The Channel You Pick
Does your audience use your official website or their email or their preferred social media channel the most? Where do they hang out more often? How will you promote your products and services to them where you can get the maximum amount of exposure?
Relevance Of Content
Now that you have selected the most relevant and effective channels of communication with your audience, it is time to create relevant written and video content. This will enable you to target them on the selected channels without any hindrances.
Maximizing Outreach
Reach out to industry influencers that will make the right impact on your brand. Personalize your approach when conversing with them so that they find value in your app. You should come across as a worthy candidate for the attention of their audience. This backing by industry influencers will build a sense of trust in your brand among your audience.
Lure With Offers
The very basic and must-have functionality of any e-commerce store is to lure potential customers with special offers. These can simply be discount offers, freebies, referral commissions, or gamification of purchase with reward points. All of these are necessary to entice the consumers for repeat purchases.
According to an independent study, more than 60% of all mobile apps are discovered through an organic search.
8) SEO Optimization Options For Your Mobile Solution
Whether it is the App Store or Google Play Store, your audience is going to conduct an organic search for your mobile app. The following elements will help you optimize your app for any third party store
Application Name
Your app name should be easy to spell and pronounce. All the while it should also be unique and descriptive. Make it fit well within the character limit of both iOS and Android platforms.
Relevant Keywords
Relevant only to Apple users, you will find extra space to specify the particular search terms that are appropriate for your app.
Icon
Do not use a lot of minute details in your app icons. Keep it minimalistic yet attractive. Opt for contrasting colors for a strong impact.
Screenshots
Using screenshots of your app along with the various benefits each feature provides your users with is a clever move.
Description Preview Video
A short video of how your app is going to make a huge difference in the life of a user will send out a strong message.
9) Monetization Options For Your Mobile And Web Based Solutions
Sale of products from your online store is just one of the ways to make money. There's substantial side income to be made with monetization features depending upon the type of your e-commerce solution.
Featured Products, Brands, Vendors
If you're running a multi-brand and/or multi-vendor marketplace, you can promote products, brand, or vendors and charge them for this featured listing.
Paid / Premium Features
This would again depend upon your e-commerce solution. You can have some freely accessible content and products, while the premium stuff can be reserved only for those customers who buy a subscription. A good example of this is video streaming services.
In-App Ads
The simplest monetization model to use for your mobile app is in-app ads, so incorporate them without sacrificing any element of the user experience you promise to offer.
Sponsorships
Your ability to generate significant user engagement will get you to partner with certain advertisers who may want to use the "real estate" in your app or website to promote themselves.
Final Thoughts
Setting up a successful web and mobile solution for your e-commerce startup is going to be a daunting task. By applying smart business analytics, you can gain critical insights into your online business and achieve better efficiency and profitability. There is so much more that we still haven't covered such as the technology stack to use that'll make your online platform future-safe, the user-interface design and how it impacts user-experience, security measures, third-party API integrations, review platforms, and much more. But it's always advisable to leave the technicalities to e-commerce development experts while you concentrate on the implementation of your business idea. We hope this little overview of what makes for a successful web and mobile solution for e-commerce startups should be able to get you started on the right track.
Receive Expert Insight By Email
You can receive more such insights, ideas, and solution recommendations from our IT experts – directly in your email, absolutely free – by subscribing to our blog.
SUBSCRIBE NOW