If you want to attract your customers to your marketplace, you have to have the most essential features and a few extra perks in your website as well. Let us cut to the chase and understand what your customers are looking for in a seamless and incredible online marketplace experience.
Easy Navigation
Hands down, easy navigation makes it first to the list of aspects/features of any multi-vendor online marketplace that aspires to go big. If you do not offer easy navigation features to your users, the entire pleasure of shopping is tainted with an image about your brand that in no way spells roses for you. When your user is moving from point A to point B, it should be breezier than a walk in the park. Simple animations and attractive elements in your website are going to make your customers fall in love with your marketplace.
The Simplest And The Shortest Checkout Process
Whether it is your returning/loyal consumers or your guest customers, the stakes get even higher when we are talking about the checkout process. It has to be simple, short, engaging and useful. It has to offer utility while being feature packed. The load times of your checkout gateway have to be as short as possible. Optimize your store checkout process right now because your user does not have any more time to spare after they have ordered the items in their shopping list.
Order Tracking Facility
When we are looking strictly from the perspective of your buyer, it is a very useful feature to get notified about the order and where it is located/reached at different points of time. Your customers should know that their order has been placed, that their return has been approved, processed or shipped/replaced/exchanged on the go. Giving your customers a valid tracking number is going to make all the difference.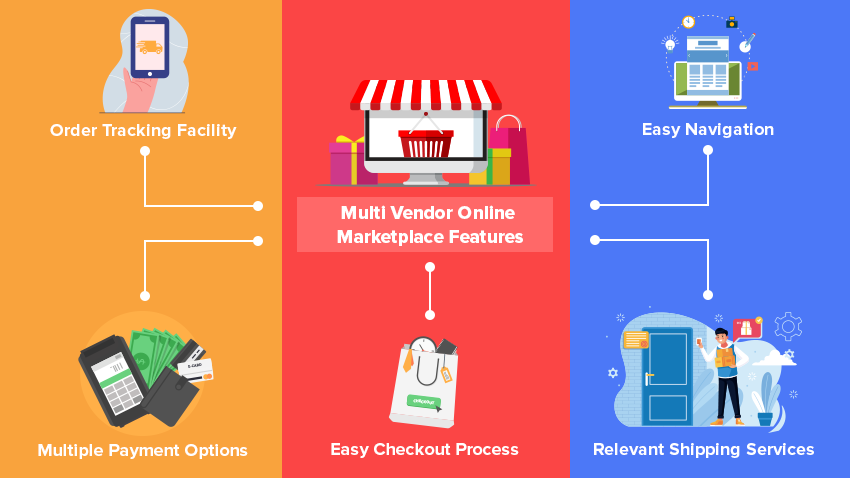 Making Your Online Marketplace Multilingual
This seems like a no-brainer to anyone. It is probably one of the most useful features that you can add to your multi-vendor online marketplace because your customers are spread across the globe. They have different preferences when it comes to language and currency as well. So if you can add this feature to your marketplace, you will come out a winner.
A Wide Array Of Payment Options
Whether it is online/bank transfers, e-wallets, debit or credit card or even cash for delivery, your customers are going to appreciate the level of freedom they get after having shopped with your multi-vendor online marketplace. This gives them the much needed flexibility they seek when it comes to choosing their preferred mode of payment. It will speed up your check out funnel and enhance their overall shopping experience as well.
Now let's have a look at the features you should be adding to your multi-vendor online marketplace from the perspective of your sellers. This is an aspect that you can never ignore because your sellers are equally important for your business. They are at the end of the demand and supply chain and rightly deserve some features that make their life easier as well.
Import And Export Feature
Any seller who wishes to associate with your multi-vendor marketplace is going to appreciate this feature because they are going to use it to migrate all their products and brand data from their own system to your e-commerce website. This feature is going to eliminate any manual efforts with the help of automated systems and quick and fast algorithms.
Resourceful And Feature-Rich Vendor Dashboard
If you are thinking about providing your sellers/vendors a customized dashboard, you will be doing them a great favor. It is an awesome idea to do that because a dashboard is going to help them manage their profile, add, remove, update and edit their products and their descriptions, manage and achieve their sales targets and keep a track of their inventory and do a lot more just from one single place.
Intelligent Promotions
By incorporating an intelligent and in-built pay per click advertising feature you can help your sellers promote their products whenever they are online. It will also help them see how their ad campaigns are performing as compared to those of their competitors. You can allow your sellers to choose their overall marketing budget and also the duration of the ad campaign, including the promotion features that are relevant to their product category so that they can increase their revenue fast.
Relevant Shipping Services
A lot of us don't even understand what the internet-of-things means. The easiest way to understand IoT is the use of the internet along with digital devices to either perform certain actions or gather data without the need of direct human interaction. Wondering how internet-of-things can help your real estate business?
Internet Of Things (IoT)
Each and every seller/vendor in your online marketplace should have the freedom to pick a particular/preferred delivery and logistics partner. This is going to add more convenience to their operations and their preferred shipping partner will also make sure that their products reach the buyers in the right condition within the stipulated time period.
Multi Store Functionality
Any leading multi-vendor online marketplace would give their seller the complete freedom to add multiple stores on their website. For every line of goods and services that they offer, they should be allowed to have a distinct store, admin and dashboard as well.
Coming To The Business Model That Your Multi-vendor Online Marketplace Is Going To Make The Most Revenue From
This is just an example of the many features that you can include in your business model. Employing the right mix of these monetization options is going to increase your revenues much faster.
Getting A Grip On Google Ads
Google Ads are going to make you the talk of the town. Many popular eCommerce stores are doing this and making the most of the exposure that they get with Google Ads on a daily basis.
Featured Products
Your featured products are the ones that the leading companies/brands are going to promote on your marketplace. Once you have established a strong reputation, you can create a featured products section to make extra profit.
Banner Ads
If you have visited any leading multi-vendor marketplaces such as eBay and Amazon, you will find banner ads practically right in your face. They are the perfect way to highlight the different offerings of various brands and companies and they make for a very interactive multimedia option as well. This direct form of advertising is a great source of revenue for your website.
Loyalty Rewards
When you have been in the market for a long time, you have loyal and returning customers from all over the world. You can reward them with loyalty points and annual packages at discounted rates. You may offer the same at a little reasonable cost to your potential customers as well. This will create awareness about your website and you will get more shoppers every day.
Final Verdict
It is very important that you do not crave perfection. The digital/online marketplace scenario is constantly changing. There is no absolute measure or mantra of success in this arena. You have to anticipate what has the capacity to change customer behavior in the future. Learn how to identify the threats and competition that aim to dethrone you from your current position as the market leader. The best way to offer an unmatched shopping experience to your customers when they visit your multi-vendor online marketplace is to learn the art of constantly evolving with time.
Receive Expert Insight By Email
You can receive more such insights, ideas, and solution recommendations from our IT experts – directly in your email, absolutely free – by subscribing to our blog.
SUBSCRIBE NOW