Today, the banking and financial services sector, in particular, is changing quite rapidly. The concepts and technologies that are being created and introduced to the users are very novel and invite a little bit of learning curve as well for most of us. The emergence of the FinTech app technology has caused an evolution of sorts in the finance sector. And due to their unique and innovative utilities and the degree of ease that they provide to the end-user, they eventually made it to the palms of most of us reading this blog. Ever since financial technology began being adopted widely, it has been improved upon and has constantly challenged the traditional financial system. These applications have changed the way we perform our routine financial tasks such as peer-to-peer money transfers, investments, e-banking operations, lending and borrowing, insurance, and much more! The biggest reason why FinTech solutions have become so popular is that they have made our life very much easier. They have practically completely eliminated any need to use physical services such as bank branches, checkbooks and the endless paperwork that we have had to deal with in the past. They have made our operations more flexible but FinTech applications of today still need a few changes and improvements that can completely give the finance sector the biggest facelift ever. The following section will shed a little light upon some of the key areas of improvement that you should focus on if you want to create a winning solution for your banking or financial services company.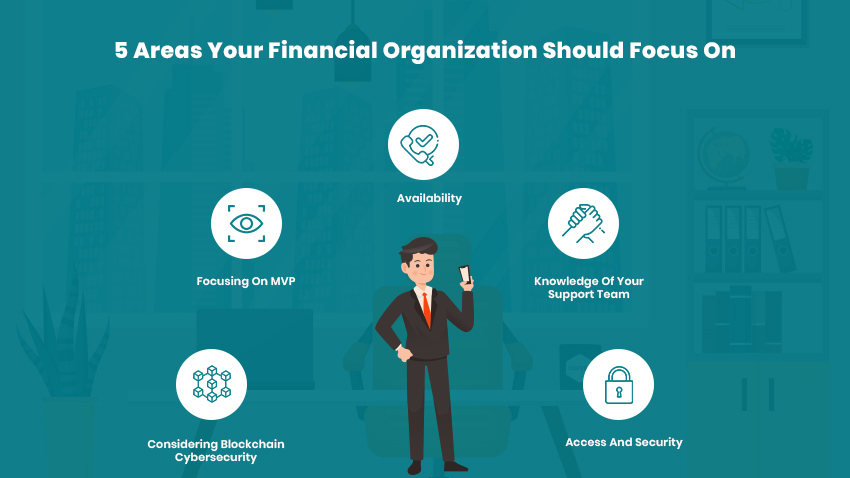 1) Availability
The biggest area that you will have to focus on is differentiating your FinTech application from conventional financing systems.
The easiest way to do that is to make your services available to your consumers 24/7 and 365 days a year. This means that sticking to certain hours is not going to help.
Similarly, your support team should also be available to your users around the clock.
Depending upon the size of your business and the area of your operations, tweak the number of hours and the number of days you are available to your clients.
Make sure that your customers are able to connect with you whenever they contact you for help and troubleshooting
Most importantly, you should stick to the promises you have made to your customers.
2) Knowledge Of Your Support Team
This is a very critical area where every modern-day FinTech application needs to focus on. Having a well trained and superlatively educated support team is very important to your success. They should be able to answer absolutely any questions put forth by your clients. Their advice and quick-fix solutions should have the power to make your application the most sought-after platform in the industry. Hiring people with significant previous experience is a practical step. You can also choose to train them in house and provide them with the most clear-cut understanding of your business processes and your Fintech application.
3) Access And Security
You want to reduce the possibility of security breaches in your FinTech application. Splitting the team into several levels with various types of security measures and clearances is a good idea. All your internal processes should be created before you launch the product. These processes are going to define the domain within which your support teams and other technicians are allowed to act. All the information that is requested from the user should be carefully escalated and every operation should be closely monitored.
4) Focusing On MVP
Yes, releasing a new minimum viable product is a very practical step and is critical to the development of a robust and reliable FinTech application. Whether it is a new product or website, it should always have sufficient features that easily satisfy all your early adopters/prospects. The final set of complete features will only be designed and developed based upon the feedback of your initial users. Therefore, take the creation and implementation of a minimal viable product (MVP) as a journey and not a destination. It is important to constantly do the following:
Identifying assumptions and perspectives
Finding new ways to test them on your audience
Analyzing the results/outcomes
Making changes to your product every step of the way
5) Considering Blockchain Cybersecurity
Today, several enterprises have started to incorporate blockchain technology for watertight data security. The best way to implement blockchain, especially in your FinTech product is to use a decentralized storage solution. This will allow you to keep all your data in the blockchain, all the while giving sufficient access to third parties. The best part is that no hacker on the planet can get access to the entire repositories of your data in just one place. Therefore, incidents of data breaches and data theft can be minimized to a phenomenal extent.
Final Thoughts
You can make a great digital product only with thorough brainstorming and analysis of your business idea. You must be wondering, how on earth you are going to achieve all this with absolutely no experience in the finance industry, right? But this is where we come in. If you need a bit of guidance or maybe in-depth information about how to create a successful FinTech product, feel free to connect with us. Zapbuild is always here to help.
Receive Expert Insight By Email
You can receive more such insights, ideas, and solution recommendations from our IT experts – directly in your email, absolutely free – by subscribing to our blog.
SUBSCRIBE NOW